alrighty. i was able to get some scans of these phones, so hopefully things will be a little clearer. thanks eeen!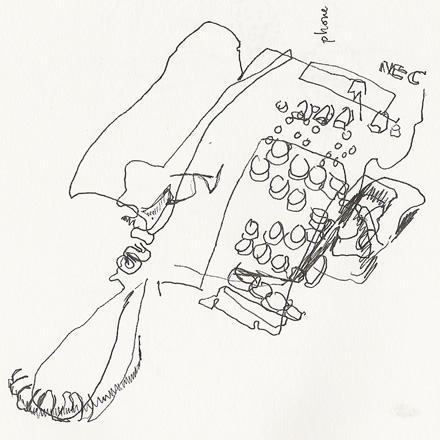 phone
this, as one can see, is a phone. i drew it while i was volunteering at the
baltimore county crisis hotline
. i do this about once a month these days, though i think that perhaps these hours will increase soon. a lot of the time spent there is spent with these phones. the one you see above is the phone that you use to answer people's calls when they are in crisis. or to answer regular calls too.
another phone
this phone is used for quality assurance (so my supervisor can make sure i get better at what i do there) and to let other volunteers into the office. it's a good volunteer opportunity, for those of you in the area. for those in other places, i'm sure that there are similar services around that could use some volunteers. you definitely learn a lot and feel a little bit more prepared to help others find resources that they can use. my only regret is that i cannot do more volunteering there without severely compromising my ability actually to do a good job and to maintain any sort of personal life.