when i originally sat down to post stuff on my trip to montreal, i had envisioned four entries, all of interest to folks. and all posted in a timely fashion from one another. unfortunately, i do not think that i pulled the interesting part. but in the meantime, almost two weeks have passed since i left there, and i haven't posted anything on the last two subjects. i think the big motivator was that i actually had drawn stuff and did okay, so i wanted to show it off. i'm so attention-seeking.
so. out of consideration that things get boring once you wait too long to post them, i am posting the drawings and foregoing too much of the banter. sound alright??
first: i liked montreal. it was a beautiful city. here are
pictures
. you can see the actual picture of this building:
one of my favorite buildings in montreal
second: the ride back on the train was long. on the way down, i had the pleasure of meeting a true gentleman from algeria? who's lived in nyc most of his life. he even called me when i was due to get home to make sure i made it safe. thanks tony! (this is tony):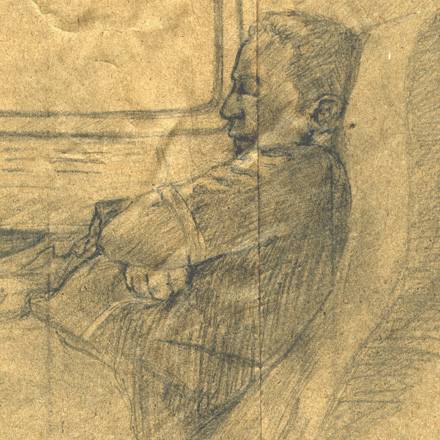 tony
third: customs sucked. it took forever to wait for customs to ask passengers probing questions and search all of the luggage. the man sitting next to me actually had to stay behind with them while we moved onwards to the states. while waiting for things to get going, i drew the trees outside. by the way, it was snowing.
trees, snow, and customs
okay. so that was the rest of my trip. all of my insightful thoughts were left behind a long time ago. it's this jardeleza/hansbrough memory of mine. i hope you like the pictures! i was pretty happy with them... though tony still doesn't quite look like himself.