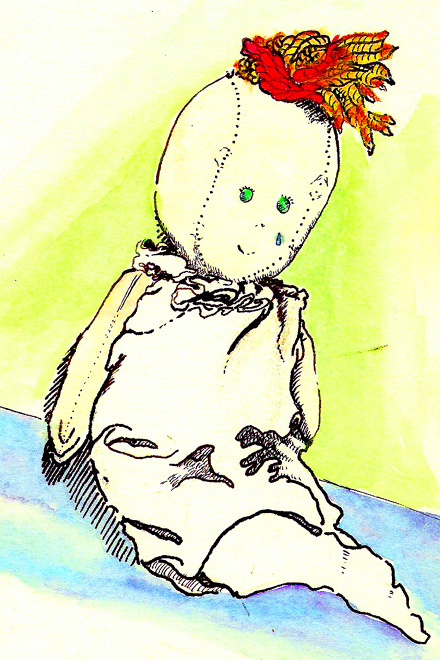 my old doll, attica
for this EDM challenge, i couldn't resist but draw attica, a doll from when i was really little. i barely remember her, i don't even know if she was officially my doll. but i rediscovered her in my attic in 11th grade, and my genius high school friends decided to name her attica because of this.
though i found attica to be quite endearing, i had friends who found her blank stare and dirty face to be somewhat disturbing. one friend in particular found her so upsetting that she wrote "i am from hell" on the back of attica's head, and beat attica against the bannister until her stuffing came out. she also added the blue teardrop on attica's face. somehow, i feel like that made the doll that much cuter.
i am currently trying to figure out a better way to illustrate that strange juxtaposition of reactions to attica, but i've found my current available media to be somewhat lacking. instead, i used this as an opportunity to play around with my ink and quill. the shadow is a little flat, i know, but i'm just glad that she still looks pretty cute.